Twitter/@TostevinM
Jailed for over 500 days for reporting on Myanmar's Rohingya crisis, award-winning Reuters journalists Wa Lone and Kyaw Soe Oo were released by a presidential pardon Tuesday. This came mere days after World Press Freedom Day, which was observed on May 3.
According to a statement from president Win Myint's office, Myanmar will release 6,520 prisoners in the third round of mass amnesties, which began in April. These are customary annual pardons during the traditional new year, according to BBC.
After months of agitation for Lone and Soe Oo's immediate release, the mounting international pressure on Myanmar's government paved the way for the termination of their seven-year sentence that was awarded in September 2018. The severity of the measure had raised questions about the democratic health of the Asian nation, sparking an outcry from diplomats and human rights advocates.
What this means for Myanmar
This case was a test of press freedom in Myanmar, and for the country's de facto leader Aung San Su Kyi, who was herself a former political prisoner not long ago.
Ever since the Rohingya crisis, she has courted harsh criticism and global scrutiny for silent condonation of human rights violations in her own backyard. These violations ranged from the army's extra-judicial killings in Rakhine to refusing the UN fact-finding team complete and independent access, and watching two international reporters languish in jail for 18 months.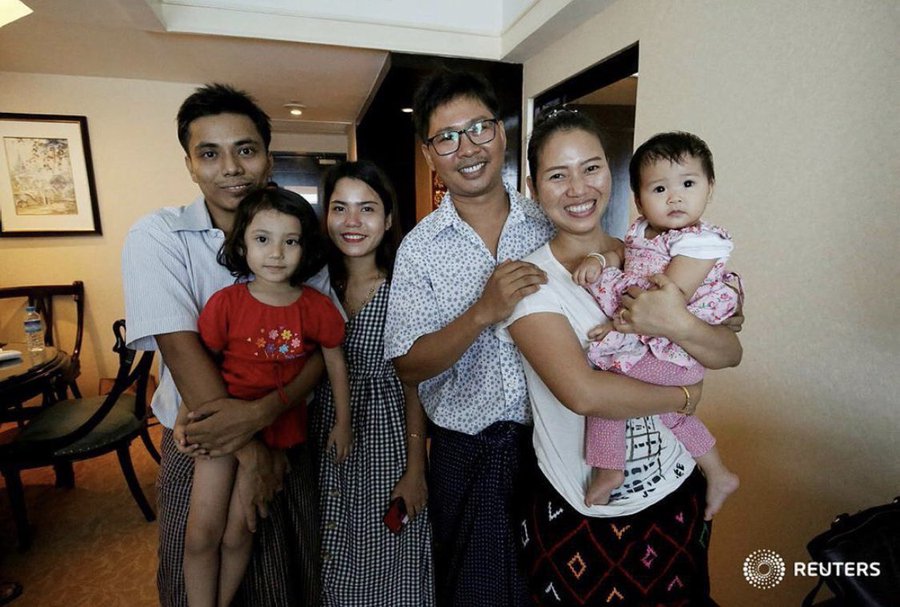 Why were they arrested?
The duo was investigating the role Myanmar's military generals played in the atrocities against Rohingya Muslims in August 2017. They were then unceremoniously arrested that December for possessing confidential documents, a charge that is believed to be fabricated.
Their defense lawyers argued that the evidence in the case was planted by the police, when Lone and Soe Oo were meeting up with two alleged informants. The documents they were handed contained information that was already public, the legal team said.
But the country's draconian Official Secrets Act allowed the authorities to put them behind bars, and they were subsequently denied bail with their final appeal dismissed at the Supreme Court last month.
Their prize-winning work
That was before TIME magazine featured Lone, 33, and Soe Oo, 29, among the 100 most influential people of 2018, for their fearless quest for the truth despite courting legal trouble.
The publication ran pictures of their wives, thus elevating the pathos of their imprisonment; both men have young children with Lone's daughter born just months after he received his sentence.
The pair also won the Pulitzer Prize in April for their reportage of the massacre of 10 Rohingya men in September 2017, by Buddhist mobs abetted by the country's security forces. It contained traumatic accounts of victims, confessions of Buddhists who pillaged Muslim households, and testimonies of paramilitary forces that directly implicated the military.
The Rohingya crisis
The army crackdown on Myanmar's Muslims sent nearly 7,30,000 of them fleeing to Bangladesh where they are housed in refugee camps. Rohingya women were indiscriminately raped, and their villages torched, according to a UN report, while the UNHRC dubbed it a genocide with the intent of ethnic cleansing.
Following Lone and Soe Oo's reports, the authorities conducted their own probe into the killings, confirming that the massacre took place and sentenced seven soldiers to prison for 10 years.
Response to release
"We are enormously pleased that Myanmar has released our courageous reporters," Reuters editor-in-chief Stephen Adler said in a statement. "Since their arrests 511 days ago, they have become symbols of the importance of press freedom around the world. We welcome their return."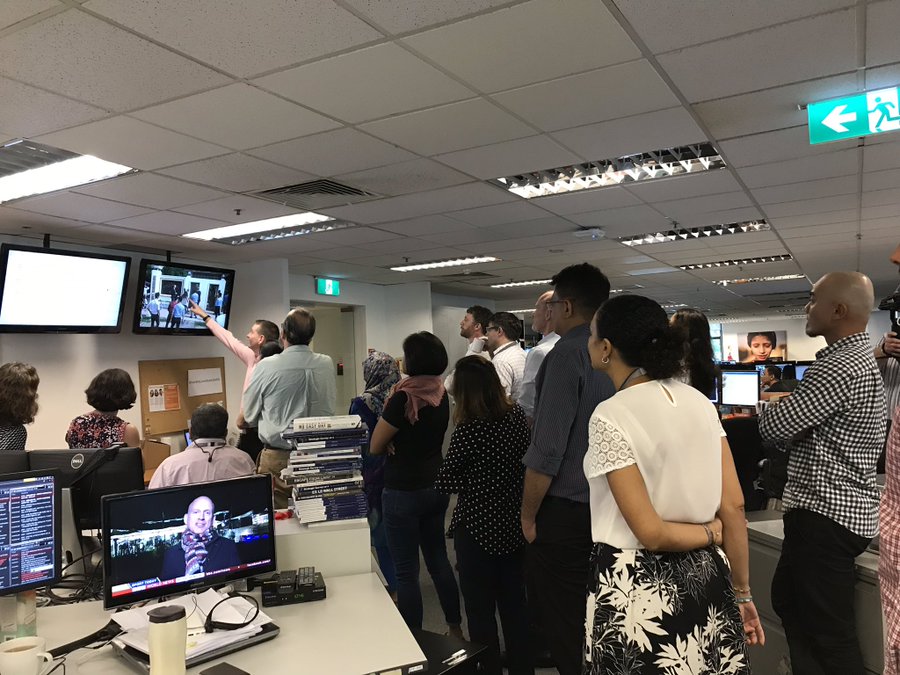 "I am a journalist and I am going to continue," Lone told a crowd of reportersoutside the Insein prison in Yangon after release. "I can't wait to go to my newsroom".
Their release means a great deal to Burmese reporters who have been intimidated into writing pro-government reports for fear of a similar crackdown; since Lone and Soe Oo's arrests, the authorities have arrested many other journalists and activists. The number of journalists arrested in Myanmar has increased to 43, according to a recent Human Rights Watch report.
So Lone and Soe Oo's freedom does not equate press freedom in Myanmar, which still refuses to investigate and try its top army generals for their role in the genocide. Moreover, this recent development serves as a litmus test for a world that is increasingly intolerant of the free and independent press.
The war against journalism
Even as the world observed World Press Freedom Day, it was with a lurking sense that that freedom is dwindling.
The last year has been particularly telling, with celebrated Washington Post columnist Jamal Khashoggi's orchestrated murder in a Saudi consulate, and Bangladeshi photojournalist Shahidul Alam's arrest following the Dhaka student protests. There was also the time a shooter walked into the Capital Gazette's office in Annapolis, Maryland, USA, opening fire and killing 4 journalists.
The most recent setback arrived with WikiLeaks founder Julian Assangereceiving a 50-week jail sentence for skipping bail, after a decade of playing cat-and-mouse with the US authorities for blowing the whistle on the army's atrocities in Iraq. Many press rights advocacy groups have since been campaigning for the recognition that the confidential CIA documents he helped leak were important works of journalistic reportage in public interest, and not a criminal conspiracy chargeable under the Espionage Act.
Ensuring the safety of journalists from assassination and incarceration is the primary way by which we can foster the independence and freedom of the press, as crucial for democracy as it is for ensuring public access to information, noted Forbes magazine. That is why Amnesty International has called for increased protection for journalists working to uncover human rights abuses around the world, and nonprofits like TrialWatch are trying to monitor if judiciaries are prosecuting journalists fairly.
The grim picture
Threats to the cornerstone of democracy are more real today, often perpetuated by political forces in power. Unfortunately, that is true not just for countries in active armed conflicts.
According to the International Federation of Journalists, at least 94 journalists were killed in 2018 (as opposed to 82 in 2017), with Afghanistan, Mexico, Yemen, Syria, India, and the US as the most dangerous countries for journalists. Another report by Reporters Without Borders (RSF) shows more than half of the world's imprisoned journalists held in just five countries: China (with 60 imprisoned), Egypt with 38, Turkey with 33, Saudi Arabia with 28 and Iran with 28.
In Asian and Latin American countries like the Phillippines, Saudi Arabia, China, Myanmar, Mexico, Bangladesh, Iran and India, the absence of airtight laws protecting free speech, like the US' First Amendment, has never been more pronounced.
On May 1, Iranian reporter Marzieh Amiri who works for the reformist Shargh newspaper, was arrested while covering a Labor Day protest in Tehran, the Centre for Human Rights in Iran (CHRI) reported.
On May 2, Mexican radio journalist Telesforo Santiago Enriquez was shot dead in Oaxaca, making him the fourth reporter murdered in the country this year. He received on-air threats during one of his shows, as per Al Jazeera, for reporting on corruption by local authorities.
Safeguarding dissent in India
According to the Press Freedom index 2019, India slipped to 140th on a list of the 180 countries, after allowing the slaughter of six journalists to go unpunished last year.
Even after Kashmiri militants claimed the life of Rising Kashmir's chief editor, Shujaat Bukhari, one of the greatest champions of free speech in the Valley, and despite the controversial murder of Indian journalist Gauri Lankeshthe year before, the Indian government turns a blind eye to the endless death threats issued to esteemed journalists like Ravish Kumar, Rana Ayyub, and Barkha Dutt often by trolls reportedly feted by the ruling party itself.
Dissent has very little space in Indian democracy today, when activists, academics, and journalists who ask important questions challenging the status quo are tagged as urban naxals and detained for months without concrete proof. The downward spiral in free expression has certainly assumed a brazen quality that suggests the worst is yet to come.
To ensure press freedom, journalists must be exempted from the scope of draconian and vague colonial-era sedition laws like the Offical Secrets Act in Myanmar, Unlawful Activities (Prevention) Act (UAPA) in India, and the Information and Communication Act in Bangladesh.
In its election manifesto for the ongoing Lok Sabha polls, the Indian National Congress has promised to repeal the UAPA; that is the first step to ensuring civil liberties and the public's right to information, so as to not allow for it to be diluted by strategic or coporate interests.
---
Prarthana Mitra is a Staff Writer at Qrius.
Source: https://qrius.com/
Updated On: 08 MAY, 19