Despite strong laws, little has been done to make public buildings and transportation accessible to people with disabilities.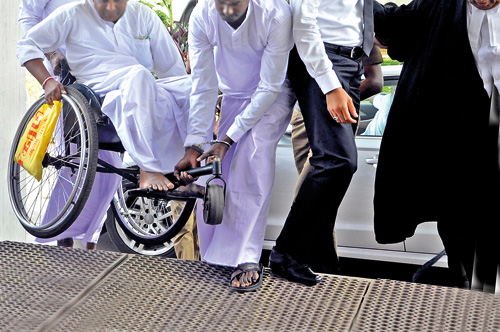 "Laws regarding disability accessibility exist but through inspection, the Human Rights Commission (HRC) found buildings that failed to fulfill the requirement," commission Chairperson Dr. Deepika Udagama said.
The question was, how had those buildings been given a Certificate of Completion given their failing, she queried.
Dr. Udagama said although local government authorities were conscious of disability access requirements they missed the fact that such requirements were mandatory.
Article 14 (1) (h) of the Constitution guarantees free movement and Article 12 (4) makes provision for special measures to be taken for the advancement of persons with disability.
Moreover, section 23 (2) of the Protection of Persons with Disabilities and section (4) of the amendment Act reaffirms accessibility rights and Accessibility Regulation No.01 of 2006 requires that within a period of three years from the date of implementation all existing public buildings, public places and places where common services are available should be made accessible to persons with disabilities.
Further, a Supreme Court decision in Dr. Ajith C.S. Perera v. Attorney-General and Others reaffirmed this right in 2009 and stated that new venues should be designed and constructed in accordance with regulations giving access to disabled persons.
"The requirement for disability accessibility is catching on with regard to buildings but not in the field of public transportation, and the Ministry of Transport has recognised this requirement. It is a costly affair but the question is prioritising and commitment," Dr, Udagama said.
She narrated accounts of how people with a disability suffered. One recent incident concerned a university student whose studies in ayurvedic medicine had come to a standstill due to her disability.
"She found it extremely difficult as the university did not have facilities and the academics had not made an effort to help her. She gave up her degree in frustration and went into depression," Dr. Udagama said.
She also spoke of a young graduate employed in the government sector who has difficulties going to certain parts of his workplace. "He said, 'We are not disabled. You make us disabled by not providing us sufficient access to buildings and public transportation'," Dr Udagama said.
She said 8 per cent of the population suffers from some form of disability, and certain societies believed that percentage was much higher.
"Society must work towards facilitating people with disabilities to access any place they wish," the HRC Chairperson said.
The commission has partnered with the Australian Human Rights Commission to promote the technical framework of disability accessibility through which technical officials, planners, engineers, local authorities and legal officials are made aware of the dire need and the importance of prioritising disability accessibility.
Dr. Udagama hopes the Ministry of Finance would allocate funds in the forthcoming Budget to make public buildings and transportation accessible to persons with disabilities.
The Urban Development Authority (UDA) said building plans were not approved if they did not meet the standard requirements, which includes making the building disability accessible – but he acknowledged there were breaches of this standard.
"Officials are sent out for inspection before issuing the Certificate of Conformity," UDA Chairman Dr. Jagath Munasinghe said.
He added, however, that most government schools and non-public buildings in hospitals where there are no wards buildings did not conform to disability accessibility requirements.
Dr. Munasinghe said that due to the high cost incurred by such institutions in providing disabled access the UDA had not imposed the accessibility condition, although alternatives such as a ramp on the ground floor had been constructed in schools.
"If there is a student who is having difficulties in accessing higher floors, schools are advised to conduct classes in the ground floor of the building," Dr. Munasinghe said.
He said a few months ago, a non-governmental organisation dealing with rights for the disabled had requested that a ramp be provided at the Independence Square premises.
"We promised to provide a hoister as providing a ramp is not always easy. But we are well aware of their requirement of accessibility and we take special care with regard to the matter," Dr. Munasinghe said.
He said there was difficulty in achieving free access to older buildings such as at Independence Square because accessibility requirements had not existed when they had been built, but efforts would be made to correct this.
The Secretary of the Ministry of Justice and Prison Reforms, R.M.D.B. Meegasmulla, acknowledged court complexes designed according to old architecture standards did not conform to the requirements of disability accessibility but said new court complexes would fulfill requirements.
"The issue has caught the attention of the Ministry and we are hoping to set up alternatives in such situations," he said.
The Ministry of Transport will import 3,000 low-floor buses, about 500 of which are expected this year. They will primarily cater to the need for easy access for the disabled, Deputy Transport Minister Ashok Abeysinghe said.
"The current transportation system does not provide for disability accessibility, which is a huge drawback," he said.
Meanwhile, Cabinet has decided to grant loans to the private sector to purchase low-floor buses through the Enterprise Sri Lanka organisation in a deal in which the government would pay 75 per cent of the total interest.