Sitting on a mud-plastered floor in front of their house in this border village in Kutch district, Kamabai Sama Karima, 49, and her daughter Raziyabai, 20, are stitching a quilt together on a wintry morning. Kamabai's weather-beaten face breaks out in a smile as she watches her grandson playing with a corner of the quilt.
But that is not the only reason for the smile. Three months ago, she heard her husband, Ismail, 52, a cattle herder who went missing over nine years ago, on August 28, 2008, was still alive and in a jail in Pakistan. Rafiq Jat, a resident of a nearby village who was also a prisoner in Pakistan, told her, after his release in October 2017, that he and Ismail were together in a Karachi prison.
"After my husband did not return home that day, we launched a search for him in the village but couldn't find him. The search continued for days in nearby villages, until I was told that he had lost his way and crossed over to Pakistan side of the border. I never heard about him again, until Rafiq Jat returned from Pakistan," says the mother of nine.
However, unknown to Kamabai, the government of India has had information about her husband's imprisonment in Pakistan for four years now. But it has not been able to bring him back home, although his sentence ended in October 2016, because, by its own admission, it has not completed his "nationality verification".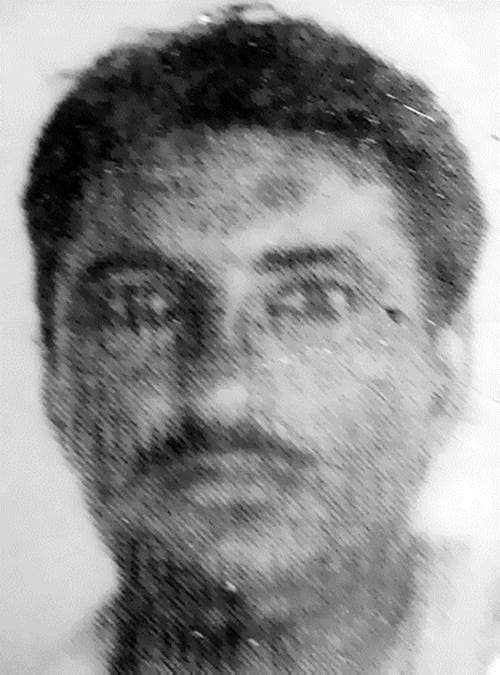 Ismail went missing on Aug 28, 2008
Kamabai believes that her husband either inadvertently crossed over to Pakistan side of the international border, near Khavda in western Kutch, after losing his way, or was abducted by Pakistani security forces. Nana Dinara is about 80 km from Bhuj, the district headquarters of Kutch, and 50 km from the Pakistan border. The Nana Dinara village panchayat comprises the vandh (cattle herder) settlements of Allaiya, Fazal, Mavar and Harun. Kamabai lives in Allaiya vandh, which has about 500 people.
In response to a query filed under the Right to Information Act by Jatin Desai, an activist of the Pakistan-India People's Forum for Peace & Democracy (PIPFPD), the Indian High Commission in Pakistan said Ismail had been provided consular access on February 7, 2014. A month later, in March 2014, the High Commission sent a request to the Ministry of Home Affairs (MHA) for verifying Ismail's nationality.
The "nationality verification" begins when the government receives information from its diplomatic mission abroad that its consular officials have met an Indian prisoner in the host country's jail. The MHA sends the address and other family details that the prisoner gives during his meeting with consular officials to the state government's Home department, which relays this information to the district, tehsil, block and village officials for verification.
The RTI reply to Desai, sent in November 2017, states that the "nationality verification" of Ismail was "still awaited", and hence the High Commission was unable to take up his case with the Pakistani government. According to Desai, Ismail was sentenced to a five-year term in October 2011. His sentence should have finished in October 2016. "The reply also put on record that there is no time limit for confirming nationality after the High Commission gets consular access. In today's digital world, verifying nationality of an individual must not take more than three months. There has to be some deadline for this task and the deadline can be three months, not three years," Desai told The Indian Express, saying only "insensitivity" on the part of the government could explain such delays.
Meanwhile, Kamabai has begun making her own efforts to bring her husband back. With the help of Fazalla Sama, president of Shri Manav Seva Panchham Vistar Vikas Navjivan Trust, an NGO working for the welfare of people of western Kutch, the unlettered Kamabai wrote to Prime Minister Narendra Modi on October 23, 2017, days after getting information about her husband.
"Recently, one Indian national, Mamada Rafiq Suleman (Jat) of nearby village was released on 12/10/2017 from Karachi Central Jail. He was in Central Jail in Karachi for more than last three years. On arrival (in Kutch), he told us that he had seen (my husband) Sama Ishmail Alimaamad in Karachi Central Jail," the letter records.
The Prime Minister's Office (PMO) sent the letter to the MHA, which in turn sent an office memorandum to Joint Secretary (Passport Seva project and Chief Passport Officer) in the Ministry of External Affairs on December 1, requesting him to take necessary action and send a "suitable reply to the petitioner urgently."
On December 6, Khavda police station in Kutch recorded Kamabai's statement on her missing husband. "We have recorded her statement and sent the report to higher officers as ordered by them," says Khavda Police Inspector P M Chaudhary. A resident of Juna village in Bhuj taluka, Rafiq Jat told The Indian Express that he travelled to Karachi by train on December 14, 2008 on a month-long visa to meet his paternal family. But he was arrested by Pakistani authorities for violation of his visa conditions, when he travelled to Badin town in Sindh province, for which he did not have a visa. He was sentenced on January 5, 2012.
"Since I had already spent three years in jail before I was held guilty, I needed to serve five more years. Three days after my sentencing, I was lodged in Central Jail in Hyderabad. It was there that I met Ismail and one Hanif Hingoraja, a resident of Mota Bandara village of Bhuj taluk. Ismail told me that he was convicted for illegally entering Pakistan and espionage, and was sentenced to five years imprisonment in October 2011. The three of us shared a prison cell for 10 months in the Hyderabad jail," says Jat.
It was Hingoraja, also arrested for allegedly crossing the border illegally, who informed Fazalla Sama, president of the NGO, after his release in 2013 that Jat was serving a prison term in Pakistan. The social worker then wrote to the governments of India and Pakistan. "It was Jat who told me that Ismail was also in a Pakistan jail. I shared the news with Kamabai, and we are hopeful that the government will ensure Ismail's repatriation, as his prison sentence got over around a year ago," says Fazalla.
"About 10 months after my sentencing, I was transferred to Landhi jail in Karachi. Ismail was also transferred to Landhi jail from Hyderabad in 2014, and we were lodged together in a cell for around a month. But after some weeks, Ismail requested a transfer back to Hyderabad jail as he was not keeping well in Landhi jail," says Jat.
While India and Pakistan have set up the Joint Judicial Committee on Prisoners, the panel has not met since 2013. "This committee, set up in 2008 and comprising judges from higher judiciary of both the countries, used to meet prisoners of India lodged in Pakistan and Pakistani prisoners in India every six months. The committee used to seek early repatriation of those prisoners who had completed their sentences. Through that mechanism, prisoners had at least one window to represent their case directly. But the committee hasn't met since 2013. Both the governments should revive this committee at the earliest," says Desai.
When Ismail went missing, his eldest son, Attaulla, was 20 years old, while Altaf, the youngest, was barely a year old. It fell upon Kamabai and Ataulla to provide for the family. "After he went missing, we had to pick up the pieces and start afresh. With the help of relatives, we managed to get by somehow," says Kamabai.
The family owns one-hectare land. But agriculture is mainly rain-fed and the soil being sandy in the arid district, yields are low. While Kamabai somehow managed to get their two daughters, Asitabai and Sharifabai, married off and also found a match for Ataulla, matters have not eased. "There are simply too many mouths to feed. It is difficult," says Kamabai, adding that her family largely depends on ration supplied by the government at subsidised rates to below-the-poverty-line families like hers.
Besides farming, Attaula doubles up as a truck cleaner. His younger brother, Qayum, works as a labourer. Raziya helps her mother stitch quilts. Dilthar, 17, has no work, nor does he attend school. Aslam and Jariyat are studying in Class VII, while Altaf is in Class I.  Kamabai says she gets Rs 100 per quilt, that she and her daughter take two days to stitch. When Ismail went missing, the family was giving finishing touches to a two-room house. They have added one room since then, while a traditional hut made of hay serves as the kitchen. They have only one cow. "I just pray to Allah that my husband returns soon. Without him, it will be very difficult to settle these children. I have faith in the Almighty… my husband will come home soon," says Kamabai.
Source: http://indianexpress.com
Updated on:  January 8, 2018