Amnesty International called on the Government to deliver on the commitments made on accountability while appreciating the positive improvements made with the human rights situation over the last two years. 
Amnesty International's Secretary General Salil Shetty, who visited the country to meet with Prime Minister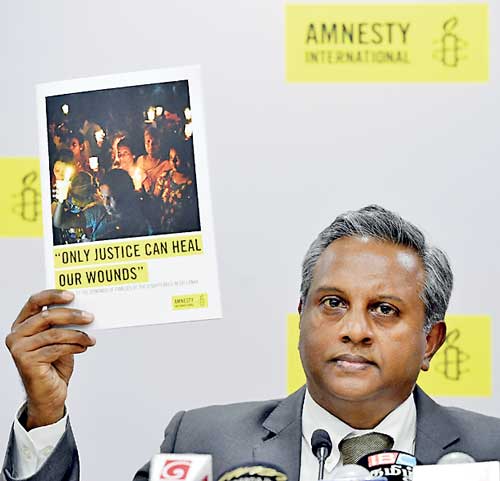 Ranil Wickremesinghe and a number of senior political leaders including Ministers Mano Ganesan, Mangala Samaraweera and Jaffna Chief Minister C. V. Wigneswaran, was appreciative of the "improvement in the overall human rights situation during the last two years". 
"The atmosphere of harassment and hostility against the media and those working on human rights issues has significantly changed for the better. The human rights commission of Sri Lanka has become independent and that's good news. The large-scale detention of political prisoners no longer happens, although for those defending the human rights of victims in the north of the country there are still many pressures and challenges," he said. 
Amnesty International, which released a report on Monday in Mannar while carrying out a series of field visits in the Northern Province covering Mullaitivu, Kilinochchi, Mannar and Jaffna, placed emphasis on the Government's responsibility to investigate alleged human rights abuses.  The report, which focused on the status of war-affected communities in Sri Lanka, called upon Sri Lankan authorities to expedite the investigation into over 100,000 cases of forced disappearances and address victims' demands for justice, truth, reparation and guarantees of non-recurrence. 
Highlighting that the Government had given a commitment to the UN Human Rights Council to bring accountability for past human rights abuses, Shetty said the Government was now "running out of time." "Based on the human rights analysis, we are now calling on the Government to say that we are now running out of time. The UN Human Rights Council has given two years and now is the time for action. The Government of Sri Lanka must publish a timetable of action for delivering accountability. During my meeting with Prime Minister Ranil Wickremesinghe he promised and he should simply do that. We also ask the Government to keep the victims at heart during this process. The Consultation Task Force recommendations are thorough and clear. The Government must stop ignoring them," he said.
Amnesty International calls on the Government to repeal the Prevention of Terrorism Act (PTA) and put an immediate end to its use, emphasising that Sri Lanka should abolish the system of administrative detention and ensure that any future legislation meant to replace the PTA met international standards. 
Further, the report also recommends the "release of all individuals held under the PTA or other forms of arbitrary or secret detention unless they are charged with recognisable criminal offences and remanded in custody by an independent, regularly constituted court." 
– See more at: http://www.ft.lk
Updated On: 06.04.2017