Delivering the 6th Annual Desmond Tutu International Peace Lecture, Hina Jilani stresses the importance of ethical leadership and exhorts world leaders to comply with human rights norms and the rule of law when addressing peace and security issues.
Archbishop Tutu, Mrs. Tutu, distinguished guests, ladies and gentlemen,
Let me begin by thanking the Desmond and Leah Tutu Legacy Foundation for giving me this opportunity of being here in South Africa and in Cape Town on the 85th birthday of my hero, Archbishop Desmond Tutu.
I feel greatly honoured and privileged to be able to share and participate in this event with you, an event that is associated with the name of Archbishop Desmond Tutu, who has not only been an inspiration for millions around the world but has spoken truth to power and has also been the hope – the voice of hope – for many living and suffering hardship in this very difficult and challenging world today.
I don't know what else to say about him, to all of you who are here for the love of him and I share everyone's pride in him. As a human rights activist and defender, I can only say to the Archbishop: thank you, thank you for being there.
When we were struggling for the promotion and protection of human rights we needed wisdom to chart out the right course, to take up the difficult battle for achieving and realising rights. By standing, you spoke about the different issues that are emerging from strife and conflicts around the world. The topic that I am speaking about is intricately linked with what you have said this evening.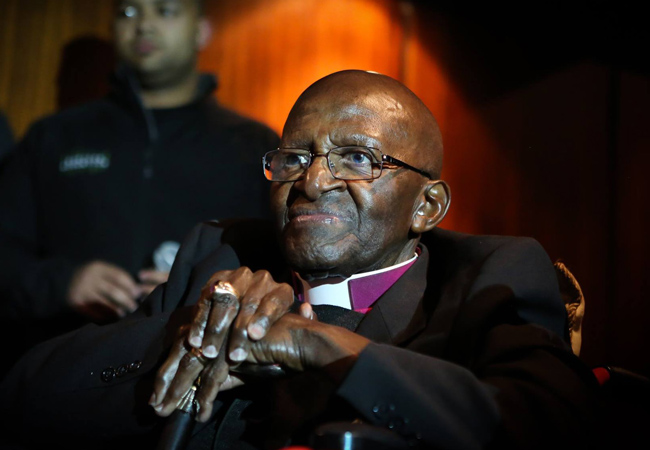 Desmond Tutu at the 6th Annual Desmond Tutu Peace Lecture in October 2016 (Credit: Desmond and Leah Tutu Legacy Foundation / Sumaya Hisham)
Contemporary threats to security go far beyond wars between states. Today, peace can no longer be associated only with the absence of war. Communities are besieged by violence in the name of religion, ethnicity and rejection of diverse identities. Communal tensions have brought intolerance, hatred and extremism that are destroying the values of humanity – values that had become cherished ideals of the world shaken by experiences of mass, fragrant and systematic violations such as those resulting from apartheid, all forms of racial discrimination, colonialism or foreign domination and occupation.
People's inability to recognise the merits of diversity has not only produced oppressive societies and divided nations, but has at the same time diminished the possibilities of finding a common interest in promoting peace to achieve the welfare of all.
Internal armed conflicts, terrorist campaigns, insurgencies, food crises, long-term political or economic instability have placed human security of vast populations in peril. Large-scale movement of people fleeing for their lives or escaping various forms of persecution is a continuing crisis that has a direct link to social and political repression. The cumulative impact of these conditions is affecting global peace.
The persistence of strife in many parts of the world is no longer only a matter of internal national concern. The consequences of long-drawn conflicts are encompassing a wider sphere of political and economic interests, making it more challenging than in the past to find acceptable solutions.
At the same time, we are experiencing a decline in the quality of world leadership and the lack of political vision will lower capacities among the leaders to address the causes of conflicts. This collective failure to restore hope for peace and people's security has given more critical dimensions to the present crisis. Indeed, responses to conflict and crisis, whether political or economic, instead of restoring security, have themselves become part of the problem. This is apparent from situations that prevail in several parts of the world.
In Asia and in Africa, for instance, several countries have emerged or are in the process of transition from authoritarian rule, armed conflicts or struggles for the right of self-determination. Many countries in both these regions have adopted national constitutions with strong guarantees for the protection of human rights.
With few exceptions, most of these countries have had periods of political stability during which credible elections were held. Despite these significant advancements, political and economic conditions in many of these countries remain volatile. Some of these countries show visible signs of reversal of the initial advancement and are trapped in a perpetual state of transition. This is largely due to inadequate attention given to establishing or restoring the rule of law and in inculcating a culture of respect for human rights in state institutions as well as in practices of governance.
Transition to democracy has remained merely procedural, and while increasing their power to control, little has been done by governments to build the capacity of the state to protect. These trends are creating conditions in which re-emergence of the social, economic and political crisis have impeded prospects for sustainable democracy, respect for human rights and the potential for development. Above all, these trends have considerably diminished the prospects for peace and security.
In the global context, two factors that are clearly identified as having the strongest impact on internal security are modes of governance adopted by the states and models of development. In both cases, governments are disregarding human rights norms and principles to the detriment of the interests of the most marginalised communities. Public reaction to the denial of economic, social and cultural rights is increasingly becoming the reason for public protest.
In many countries, stability rather than development has become an imperative to be achieved through the use of state force to repress popular movements and the voices of protests against economic and social disempowerment. Such actions have resulted in increased public resentment against authorities and in narrowing the space for dialogue.
Flaws in the agenda for economic development pursued by many states are amply reflecting the growing poverty and social exclusion of large sectors of the population. Serious violations of economic, social and cultural rights have become engraved in the actions of the state. The affected population find that in the current environment of globalisation their own governments are either unable or unwilling to adjust to the difficulties they confront. Exploitation of labour and depletion of the environment are some of the serious forms of violations resulting from the new economic arrangements. Indigenous populations are often particularly affected by such violations.
In my region, multinational corporations and other non-state agencies have acquired an enormous degree of control over the lives and liberties of the people. There are several examples where coercive power of the state has been used against communities and human rights defenders at times at the instigation of pressure of powerful economic interests.
Leaders of indigenous and other minority communities, leaders of the movements of the poor, environmental and anti-globalisation activists, trade union leaders and defenders of the rights of displaced persons, migrants and refugees are increasingly being targeted. These trends could lead to a further increase in violations and a future crisis of human rights in that region. It is imperative to find approaches to economic development that secure people's social and cultural progress through means that do not create conflict of interests between communities and become the basis of strife.
The political conditions and the practices of governance adopted by states primarily determine the degree of risk and insecurity to which people in general, and some communities in particular, become exposed. An appreciable weakness in the rule of law has been observed in different countries where insufficient, not genuinely representative democracies prevail with little or no scope for citizen participation and without accountability or transparency.
At the same time, public institutions are increasingly being used to perpetuate and strengthen the interests of certain sectors. Institutions for policing and prosecution suffer from inefficiency and corruption and the independence of the judiciaries is severely strained. Internal monitoring systems are either non-existent or have failed to enforce compliance with human rights norms in the practices or policies that are adopted by state institutions.
Severe restrictions on the freedom of information, expression and assembly imposed particularly in the name of religious ideology or the security or integrity of the state, in many countries have limited the access to information or sites of violations, thereby frustrating attempts to monitor situations and to report violations. National security law has been imposed in the severest forms in many countries of the world. In some countries such laws are permanent parts of the domestic legal framework, which has weakened the effects of any guarantees of fundamental rights and adversely affected the efficacy of the mechanisms of their enforcement.
In areas of conflict, of political tensions, emergency or special laws are imposed to suspend fundamental freedoms and to restrict recourse to civilian courts. The introduction of the exceptions to the rules, for example, through special legislation of security in general, or against terrorism in particular, has affected the ability of national judicial systems to protect people from arbitrary actions.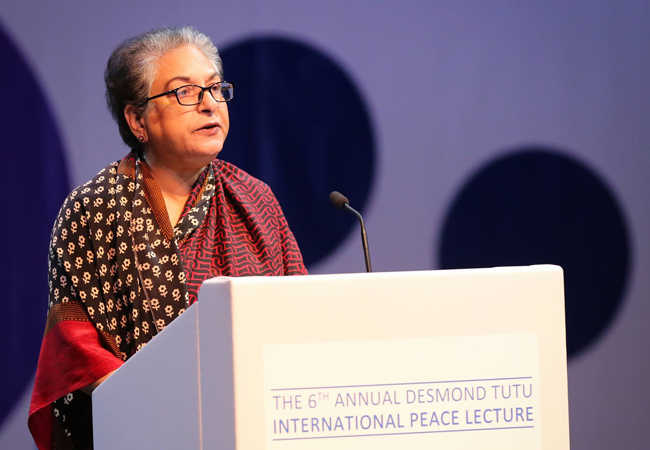 Hina Jilani delivers the 6th Annual Desmond Tutu Peace Lecture in October 2016 (Credit: Desmond and Leah Tutu Legacy Foundation / Sumaya Hisham)
The climate created in the wake of countering terrorism has created instability without ensuring security. Anti-terrorism measures have been adopted in environments charged with political conflict and in many cases under economic depression. Governments have used the current climate to abuse the enhanced powers gained in the campaign against terrorism to target political opposition, movements for self-determination and those defending human rights.
It is true that the menace of terrorism poses a serious threat to peace and security. Those striving for the rights of minorities or women, advancing the cause of religious tolerance and accommodation of ethnic or racial diversity have been some of the first victims of terrorism and of different forms of extremism. These are the people who have also been in the front line to combat terrorism in order to preserve the norms of peace and democracy.
This struggle of the human rights community against terrorism and extremism precedes even the events of the 11th of September 2001 in New York. It has long been a visible human rights activity in parts of the world where the roots of terrorism are the strongest, and I can give you several examples from Pakistan and Afghanistan. Yet, it is these human rights defenders who have become the leading voices in pointing out that many of the measures to counter terrorism are eroding human rights norms and are insisting that peace and security can only be achieved in compliance with these standards.
In this post-9/11 era, many states have avoided acknowledgment that an existing conflict has its roots in political or social claims of different sections of their population and the failure of the state to offer equitable solutions. They have characterised their response to all kinds of opposition as counterterrorism. This trend of deliberately miscasting the context of the conflict, the emergency of the state of exception created for countering acts of terrorism, now poses a threat to the rule of law and the respect for human rights.
A perception that the security imperative justifies deviation from recognised standards of human rights has been deliberately raised to condone these deviations. This has encouraged xenophobia, intolerance and hatred in many societies. Other significant sources of conflict or tension are the politics of identity, greater difficulties in the management of pluralism and diversity, increasing poverty and the diminishing role of the state in providing social security.
The situation of women in many countries of the world is of particular concern: their rights are violated in the name of religion and culture and they become particularly vulnerable to prejudice, to exclusion and to public repudiation not only by state forces but by a variety of social actors as well.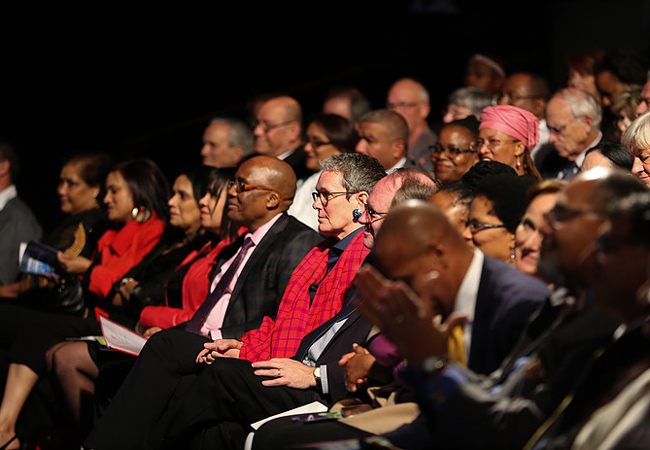 Members of the audience at the 6th Annual Desmond Tutu Peace Lecture in October 2016. (Credit: Desmond and Leah Tutu Legacy Foundation / Sumaya Hisham)
Ladies and gentlemen, when societies fail to challenge the misconceived idea of the trade-off between security and human rights most often they get neither and minorities and other vulnerable groups pay the price. Such notions have resulted in an assault on the rule of law and human rights that are likely to become more and more entrenched if the current trends are not arrested or reversed.
Human rights and humanitarian law are not drafted with peace and political stability in mind, rather the basic purpose of this legal system was to provide states with the framework that allows them to respond effectively to even the most serious of crisis. Therefore, human rights can never be a luxury to be cast aside at times of difficulties.
International law is the foundation that will help states to respond effectively to whatever difficulties arise including civil strife, armed insurgency and terrorism. Preservation of peace and security is a core objective of the Charter of the United Nations. The implementation and respect of fundamental rights is another core objective as initially reflected in the Charter and then laid down more precisely in the Universal Declaration of Human Rights. History has eloquently illustrated how closely linked these two objectives are. Human rights violations are almost always the underlying cause or consequence of deterioration in peace and security.
Bringing an end to armed conflict and restoring peace and security typically require progress in addressing ongoing human rights violations and ending impunity for past violations. It is however far less challenging to identify human rights concerns and to set and agenda for change, than it is to bring about conditions – political, economic and social – that would allow the realisation of these rights.
Repeated and prolonged periods of political crisis and economic instability in many parts of the world have restrained progress towards a stable environment in which respect for human rights finds the best guarantees. While states have progressively enhanced their part of control, the role of the state in protection has diminished. These trends continue to impede progress for democracy, respect for human rights and the rule of law, and the potential of development.
An intelligent and creative choice of national and international mechanism is now vital not only to strengthen democracy and the rule of law, but also to effectively counter trends that pose a threat to these prospects such as extremism and intolerance. Informed electoral processes that ensure genuinely representative democracies with ample space for citizen participation and credible accountability systems need to be promoted.
Effective judicial systems must be supported by complete judicial independence if people are to draw real benefits from protections that are normally available under a constitutional framework. Initiatives for legal empowerment of the poor to relieve social exclusion and discrimination, exploitation of labour, eviction from land and displacement and for conferring the right to control over natural resources would contribute towards bringing peace to communities.
Such a move forward requires a creative relationship between states and civil society, so that people's dignity and security is placed at the centre of any approach towards governance. A significant development in the recent years is the growing strength and capacity of civil societies in many parts of the world. Civil society actors have played a significant role in inducing recognition by states of the concepts of participatory democracy, transparency and accountability.
At the same time, human rights defenders and other civil society actors have taken important initiatives for transformational societies that still carry biases which drive social behaviour towards discrimination, hatred and violence. International cooperation and a sense of collective responsibility to end violence remain critical elements in removing the foremost threats to peace and security.
There are many challenges that are already testing the resolve of the international community to promote accommodation and tolerance in order to prevent the erosion of peace and harmony. I end with the formal fervent hope that such a result at the international level leads the world out of the crises we are confronting today and that people learn the value of coexistence and shared progress.
Source: http://theelders.org/
UUpdated On: 07 October 2016