Published in the elders.org on Oct. 11 ::
"Have the courage to take action. Society is ready to change."
Marking the International Day of the Girl Child, Hina Jilani calls on the international community and civil society to work together to improve the lives of girls and women.
In the international community we talk about the family as being the basic unit of society. Today we see that the family has become the biggest locus of violence, especially against women and children.
If we do not address issues like child marriage, we will never expect the family – or allow it – to become a unit which is able to give dignity and equality to all its members.
Challenging culture and tradition
We need to correct the perception that any harmful practice is a part of what we call culture and tradition, which people can be proud of. Harmful practices should not be equated with culture and tradition.
Even if some parts of the world consider harmful practices a part of culture or tradition, we must remember that those who are harmed by these cultural and traditional practices are women.
Are women not a part of that society? Are they only subjects of culture, with no hand in making culture?
Culture and tradition in themselves evolve out of historical changes. They should not be allowed to become obstructions to change.
International community: have the courage to act
Local and international actors need to understand that child marriage is an issue that has gone from the local to the international. It is not an issue that the international community is using or is imposing on national and local communities.
There are political movements in these countries. I come from such a movement. We don't deal with figures; we leave that to UNICEF and the United Nations. We deal with actual lives, so we are not talking about child marriage and its effects on society, and on girls and women in the abstract. We have faces to show you; we have victims to put before you; and our society has seen those faces.
The international community needs to know that any initiative to eliminate and curb child marriage will receive the weight of those movements behind it.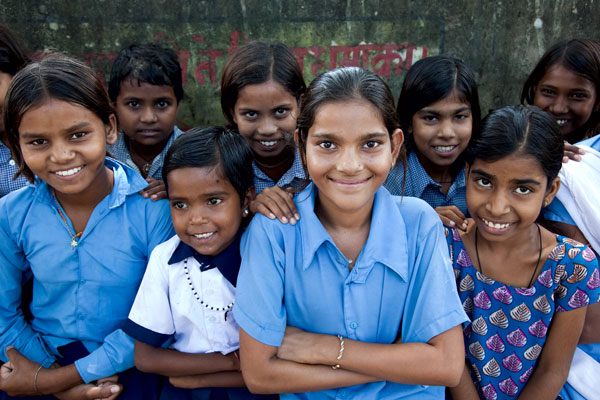 Girls empowered to stay in school and complete their education, India, August 2011
Have the courage to take action. Society is ready to change – and accept change.
In Pakistan – my country – about two decades ago, there were a significant number of people, myself included who were trying to resist state-sponsored trends, trends which would have decimated women's and girls' rights. Instead, there have been legal reforms on child marriage, progressively making it better for women and girls. It's still inadequate, but when these positive reforms were implemented, there was no resistance from the broader society.
We must work together
Governments should make sure that they have courage to take the step, to ensure that they are not being overcautious. They must not submit to the influence of interest groups, of religious lobbies, of conservative lobbies. This is not the time to either become an apologist or be defensive, or over-romanticise what is certainly something which has proved to be – figures have proved it, data has proved it, research has proved it – definitely harmful for the world's population, whether they are girls or women.
In 2011, The Elders founded Girls Not Brides – a global movement comprising of more than 400 civil society organisations in over 60 countries working to end child marriage.
It is time that local and national movements – and international initiatives – become mutually reinforcing and strengthening. We need to work together to ensure that local initiatives and movements do have an impact. Because local pressure as well as international pressure can force governments to change. To make sure that state social policy and the weight of state social policy is put behind laws – so that these laws have impact.
The work for the defence of human rights must prioritise the welfare and the protection of the girl child.
Governments have the duty to protect. At the same time, civil society also has the duty to promote and defend human rights.
Source: http://theelders.org/article/lets-not-be-afraid-challenge-traditions-harm-girls